In Memory
Steven Jewell (1984)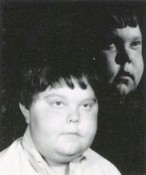 Taken from the In Memoriam page in the 1982 Phoenix Yearbook:

Fifteen-year-old Steven Jewell was the 1979 poster child for the National Kidney Foundation of Wisconsin, an active bowler and fisherman, and a highly respected veteran newspaper carrier for The Milwaukee Journal. He never reached the age of sixteen.

Until Steven passed away on October 17, 1981, many, including even those closest to him, were unaware of the fact that the determined, young man who "didn't like to lose or give up," had spent nearly half of his life battling kidney disease.

Although Steven lost the battle, the fullness of his life within the limited time allotted him, attests to his courageous convictions.

Rufus King lost a special friend in 1981, but Steven Jewell will continue to be an inspiration to all those whose lives he touched through his courage and determination.
Rest in Peace.