1984 Welcomes all classes & In Memory alumni
Rufus King International
High School
In Memory
Paul James Clemons, Jr (1986)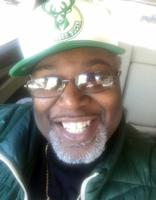 Paul James Clemons Jr. was born September 6, 1967 in Milwaukee, Wisconsin to Paul James Clemons Sr. and Betty Jean Rodgers, he was the youngest of six children. He attended St. Agnes, Messmer and graduated from Rufus King High School and played basketball at all of them. Paul was employed at Milwaukee Public Schools in the Central Office building for over 20 years. Paul was united in holy matrimony to Anita Hendon on September 21, 2001. Together they have a son, Paul James Clemons III. Paul loved to live. He enjoyed watching sports, playing pool, gardening, and barbequing. He was the number one fan for his hometown teams the Milwaukee Bucks, Green Bay Packers, and Milwaukee Brewers. Paul also had a great love for music. His greatest love was for his family but especially his grandchildren. He departed this life on March 26, 2020. Paul leaves to cherish his memory- his loving wife, Anita Clemons; four children: Jonathan, Jonisha, Joshua and Paul; two brothers: Zachary (Debra) Bynum, Shelton Rodgers; three sisters: Wendy (Bobby) Shepard, Tracey Rodgers, and Gloria Rodgers. Nine grandchildren: Emijah, Canden, Kaiden, Koa, Karter, McKensie, Karsyn, Khai, and his most recent joy Payden. He also leaves a host of nieces, nephews, other loving relatives and many dear friends. He was preceded in death by his parents, Paul Clemons Sr. and Betty Rodgers.
https://www.krausefuneralhome.com/obituary/paul-james-clemons-jr/
(I am not sure how long the video link will be up but there is a family video that you may order. Also the above obituary came from.
https://www.krausefuneralhome.com/obituary/paul-james-clemons-jr/